Moulded cellulose, or moulded fibre, is a packaging material composed mainly of recycled paper and cardboard. Although its industrial production started over 100 years ago, moulded fibre has only recently become a reference material for packaging and for chocking numerous products . Often associated with egg boxes, it is now used in many other sectors of activity and appreciated for its protective and ecological properties.
At the start of the 20th century, a moulded technique based on cellulose and wood waste was perfected in the United States. The process was then industrialised to manufacture disposable plates and trays for the local lumberjacks. This know-how was soon extended toother applications such as cake trays and moulds for bakers, paper plates for grocers and picnic packaging for families.
From disposable table ware to egg transport
Faced with the success of moulded fibre, its incredible strength and excellent shock-absorption properties, special packaging articles have been designed since as long ago as 1931 to store and transport fresh eggs.
Until then, eggs were sold loose and carried in baskets or paperbags, resulting in a 30 % breakage rate during transport. These first mould fibre trays (holding 30 eggs) therefore considerably simplified egg transport between producers, shops and customers.
It was during the 1960s that the modern shape of the egg box, equipped with a practical snap-shut lid, was invented.
Multi purpose packaging for everyday products
While widely used in packaging solutions for the poultry sector, other fields of activity are now taking an increasing interest in moulded cellulose due to its technical properties.
In the food industry, for example, porous fibre fabric trays absorb the moisture from fruit and provide continuous aeration through micropores to keep the fruit fresh.
This solution is also used regularly to protect and chock electronic or everyday consumer products.

Now everybody knows that the cost of goods is not only cost on the goods but there's also a hidden cost of environment. This new aproach brings new rules and limits to production and products. By the development of recycling industry and environmental issues it's encouraged to use environment-friendly products .

Any resource used in production should have a recycling performance. Paper is one of the most succesfull resource of all.
Nowadays lot's of unions, countries, states, organizations and companies are having very clear rules and sanctions on environmental issues. Using paper and recycled paper is one of the best solutions chosen by the customers..
Distribution in the use of moulded cellulose by sector of activity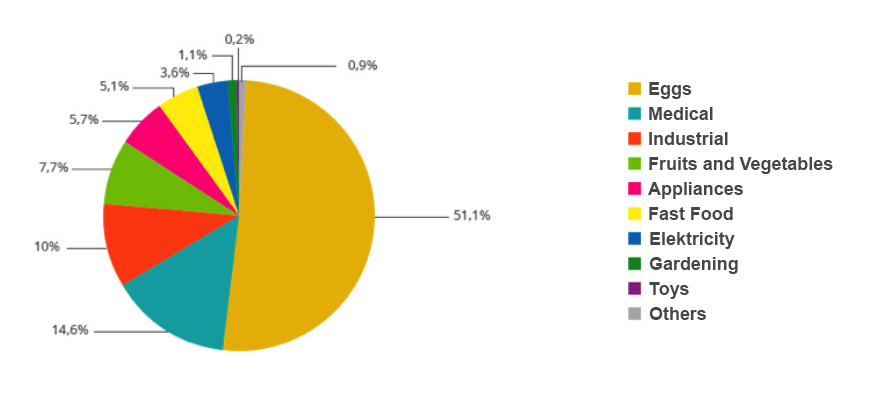 Modern and ecological production
Moulded fibre packaging is manufactured using recycled materials. For many years, companies such as Yuva Viol specialised in this material have invested in research to develop innovating techniques and produce increasingly efficient and environmentally-friendly solutions, to play an active role in a sustainable policy for protection of the environment.
Moulded fibre,
an efficient and ecological packaging solution

Historically reserved for egg boxes, moulded fibre is now used in many other applications (protection for the industrial, food, wine, medical sectors, etc.). Composed exclusively of recycled materials, this innovating product is often preferred toother packaging solutions such as plastic and polystyrene, due to its mechanical characteristics and low impact on the environment.
Ecological material
In addition to meeting numerous industrial requirements, moulded fibre is a 100 % sustainable product, in line with the growing environmental consumer awareness.
Obtained from recycled renewable materials such as paper and cardboard, this packaging solution participates in the preservation of forest resources and helps save fosil fuels, with a controlled production process which significantly limits its CO2 impact.
Fully biodegradable and recyclable, moulded fibre is also easy to dispose of, with no additional waste treatment costs.
Participate in preservation of the environment
The natural resources (water, oil, etc.) used to produce most types of packaging are limited. It is therefore essential to limit their depletion by adopting environmentally-friendly alternative solutions.
Yuva Viol is committed to developing a responsible manufacturing process, with a solution combining both performance and ecology, in compliance with applicable environmental standards. In addition to the biological characteristics inherent to the actual nature of moulded fibre, Yuva Viol acts as a true recycler of paper and cardboard, with a perfectly controlled process and a limited CO² impact, from recovery to delivery, as well as in every production step.
Cellulose is a fully recyclable and biodegradable material, with an infinitely renewable life cycle, which solves the problem of waste treatment.

Integrate sustainable development in your marketing strategy
The environmental impact of a product, and especially its packaging, is now a determining argument taken into account by consumers in the decision to buy. Choosing moulded fibre means adopting a sustainable development approach as well as meeting the expectations of your customers, in line with global market awareness.