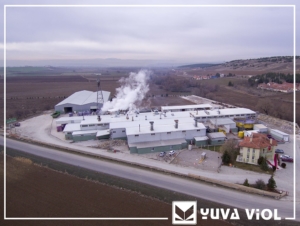 Our plant was established in 1988 in Lüleburgaz / TURKEY under the name of " Zarbun " . In 1997 it was moved from Lüleburgaz / TURKEY to Corum / TURKEY because of changing marketing conditions and logistic disadvantages. We have been working in Çorum / TURKEY under the name of " YUVA VİOL" since 1997.
We started working with egg-trays in Lüleburgaz, continued our activities with apple-trays and then small-moulded-paper plates…
After moving our plant in Corum we have started to produce medical-disposables made of moulded paper , industrial material trays , material trays and some other vegetable and fruit trays….
Now we are in the packaging sector, producing more than 90 kinds of products in diffirent commodities and colours.
One of the strenghts of our company is our ability to make our own R&D activities. Due to this capacity and our wide range of products range Yuva Viol is one of the major companies in Turkey thus Yuva Viol has a major role in the moulded paper market.
From 2001 our strategy is to keep up with new markets and products…..